EVAPX® is a low energy evaporation and crystallisation technology which uses a dry air stream to efficiently evaporate wastewater and brines.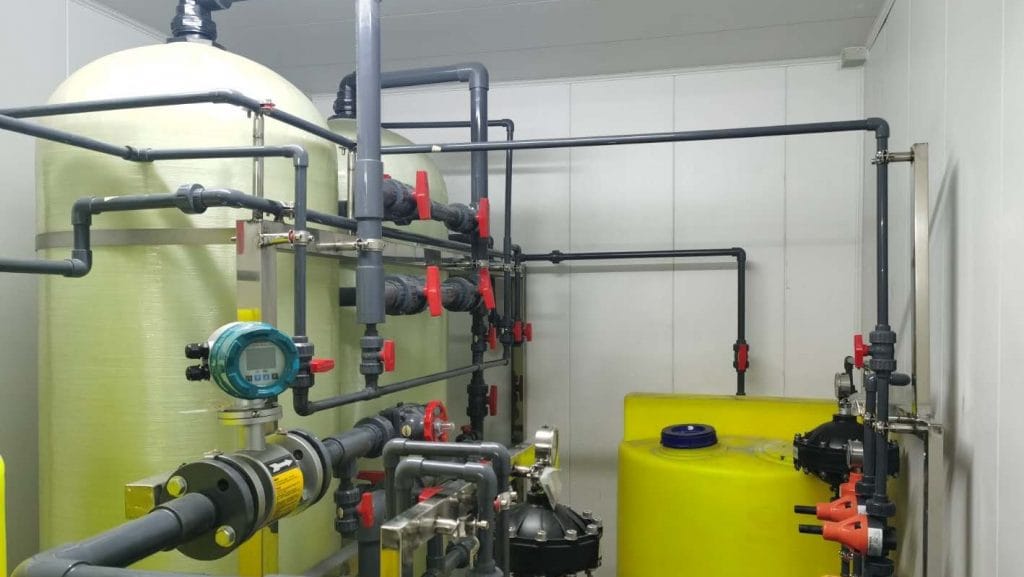 Summary of EVAPX® Technology
EVAPX® evaporates wastewater using humidification and dehumidification, allowing evaporation to occur at temperatures lower than boiling point and at atmospheric pressure, reducing the heating required and cost associated with pressure vessels.
The distillate produced by EVAPX® is highly pure water, which can be reused or safely discharged to the environment. EVAPX® can be configured to produce a concentrated liquid brine, a slurry, or solid waste depending on the client's needs. EVAPX® can be powered by electricity, steam, waste heat or solar energy.
Process Description
Water enters the evaporation chamber where is evaporated using a dry air stream. The solids settle at the bottom of the evaporation chamber and are separated out. The humidified air moves to the condensation chamber where it condenses as distilled water, and the heat is recovered. Heat is applied to the heat exchanger instead of directly to the evaporation chamber, making the system highly resistant to scaling and fouling.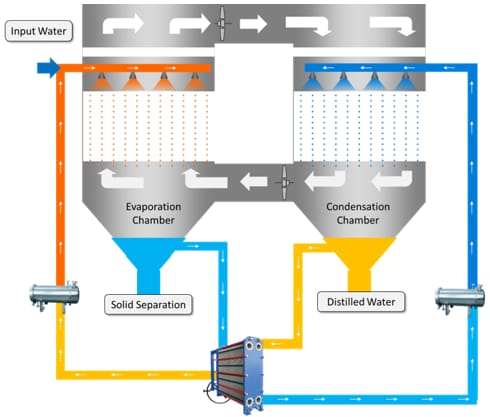 Applications
EVAPX® can be applied to a range of applications where brines or difficult to treat waste streams are produced. Typical applications include:
Industrial Water – zero liquid discharge solutions for difficult waste streams and brines
Power Plants – evaporation of difficult to treat waste water and brines, often using the plant's waste heat for reduced capital and operating cost
Mining Water – producing a pure distillate and solid waste from tailings, process water, brines, or acid mine drainage.
Agriculture – evaporating difficult to treat wastewater and avoiding brine ponds
Reverse Osmosis Brines – concentrating brines or creating a slurry or solid waste, avoiding the need for evaporation ponds
Evaporation Pond Remediation – treatment of high TDS water in evaporation pans, producing a solid waste and a high quality distillate for reuse or discharge
LOW ENERGY CONSUMPTION AND CAPABLE OF UTILISING WASTE HEAT TO REDUCE COSTS
VERY HIGH WATER RECOVERY
(TYPICALLY >99%) AND LOW WASTE PRODUCTION SINCE THE BRINE RESUSE
HIGHLY RESISTANT TO SCALING AND FOULING SINCE EVAPORATION OCCURS AWAY FROM HEAT INPUT
LOW CAPITAL AND OPERATING COSTS
EASY OPERATION, CLEANING, AND MAINTENANCE
Get in touch
Find out how we can help with your water treatment challenge using the EVAPX® technology.