Our DESALX® technology selectively removes metals (calcium, magnesium, and others), and sulphate in a robust, membrane free, zero liquid discharge process.
Summary of DESALX® Technology
Our DESALX® technology consists of two CIF® (Continuous Ionic Filtration) modules in series removing multivalent cations (such as calcium, magnesium, and other metals), and then multivalent anions (such as sulphate) from water in a complementary processes. Monovalent ions such as sodium and chloride pass through the system, avoiding creating a difficult to manage saline brine, which is often produced by membrane technologies such as reverse osmosis.
The gypsum based brine produced by DESALX® can be sent to existing lime precipitation systems on site to produce gypsum solids for a true zero liquid discharge (ZLD) solution. If lime precipitation isn't already available, DESALX® can be combined with a high density sludge (HDS) clarifier for a low cost ZLD solution.
Process Description
Each CIF® module in DESALX® comprises a series of columns optimally sized for their specific task, one for water treatment and the rest to recondition the ion exchange resin. CIF® uses a moving packed bed of ion exchange resin to selectively remove contaminants and filter the water of suspended solids when required. The ability of the system to tolerate solids in the feed, and the formation of precipitates such as gypsum during desorption is a key feature of the technology, allowing DESALX® to use cheaper reagents and be more robust than traditional batch ion exchange systems.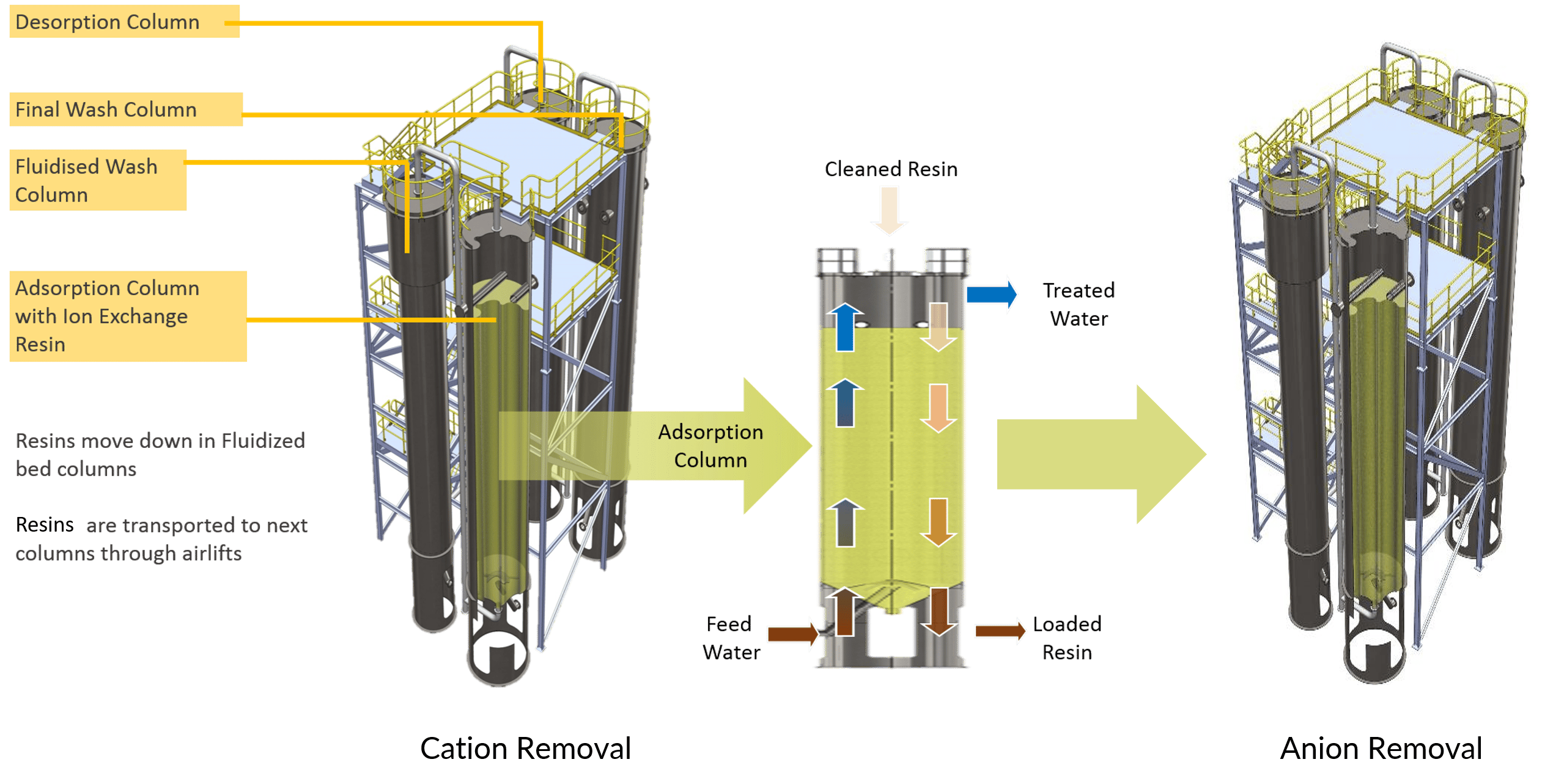 SELECTIVE CONTAMINANT REMOVAL FOR HIGHER WATER RECOVERY AND LESS WASTE PRODUCTION
EASILY CONFIGURED TO PRODUCE A SOLID WASTE, AVOIDING EVAPORATION PONDS
MEMBRANE FREE PROCESS HIGLY RESISTANT TO SCALING AND FOULING
LOW OPERATING COSTS AND SIMPLE OPERTIONS WITH MAINTENANCE
Applications
DESALX® can be applied to a range of industries:
Mining Water – removal of metal ions and sulphates from pit water, tailings, process water, and acid mine drainage
Groundwater Treatment – removal of hardness and sulphate for potable or process water use
Industrial Water – selective removal of metals and sulphate for process water reuse or compliant discharge
Get in touch
Find out how we can help using DESALX® technology to solve your water treatment challenge.