Water treatment for
Food & Beverage

Winery

Distillery

Dairy

Poultry

Brewery
Businesses
At Clean TeQ Water we provide efficient solutions for the food and beverage industry to improve water efficiency, reduce waste, and meet sustainability goals.
Read More
WHY CHOOSE CLEAN TEQ WATER?
We are one of the world's most innovative sustainable water treatment and metals recovery solutions providers. Our focus is on helping our client achieve:
HIGH WATER RECOVERY (TYPICALLY >90%)
SELECTIVE/TARGETED CONTAMINANT REMOVAL
LOW CAPITAL AND OPERATIONAL COSTS
INDUSTRIES WE WORK WITH
Beverage Production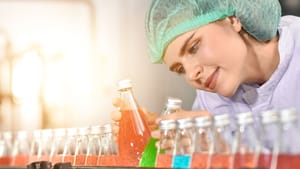 Water used in beverage production processes needs a clean, safe and continuous supply. Our technologies ensure that your ingredient water is produced reliably, cost effectively, and meets the highest quality standards that your production demands. Additionally, our focus is on developing sustainable solutions to reduce the financial exposure and satisfy the discharge requirements.
Breweries, Wineries & Distilleries
Water is one of the most important raw materials used in brewing, wine making and distillation. To produce one litre of beer, breweries can require between six to eight litres of water. The quality of the beer you drink is directly proportional to the quality of the water used in brewing that beer.
Water is used for liquor production, processing, general purpose, boiler feed and more. We help our clients develop customised solutions to achieve the desired circular economy goals.
Dairy
Dairy sector is other major consumer of water and producer of large quantity of wastewater. The most important ways of water use in the dairy industry consist the technological processes, cleaning systems, cooling systems, steam generators, and fire protection systems. Dairy farms and production facilities both require better water management to improve efficiency for water use/reuse. Conserving fresh water is important to the future of the dairy industry.
Processed Food
In addition to being an ingredient in many foods water can be used in different areas of food processing including cooling towers, cleaning and sanitation, utility demands and clean- in-place systems. The water used in food production is potable water (i.e., drinking water). It may come from a variety of possible sources including surface water such as streams, rivers, lakes, groundwater (e.g., underground natural springs, wells), rainwater, and seawater (after desalination). The quality of water is essentially dependent on the source of water. CNQ helps aims to help our clients with adequate supply of food production safe water.
Meat, Poultry & Seafood Processing
For meat and poultry processors, water consumption, water reclamation and wastewater treatment are key functions of plant operations. Water is used for chilling, scalding, can retorting, washing, cleaning, and waste conveying. Many meat and poultry facilities have recognized the need to recycle process water. The use of recycled process water can help the businesses substantially to offset the increased cost of water, minimize wastewater treatment costs, reduce costly municipal wastewater discharge fees and support corporate sustainability initiatives.
FOOD & BEVERAGE INDUSTRY CHALLENGES
Regulatory Compliant Discharge Limits
Complex Process to Separate Dissolved Ions
High Waste Volume Production
High Capital and Operational Cost
OUR TECHNOLOGIES
Continuous Ionic Filtration
Selective contaminant removal and solids filtration using our patented continuous ion exchange technology. Lower resource consumption and waste production than alternative methods.

Membrane Free Desalination
Two CIF® modules in series to first remove multivalent cations (e.g. calcium, magnesium), then multivalent anions (e.g. sulphate), producing solid waste in a robust membrane free process.
Chemical Free Ultra High Recovery RO
Combining CIF® with reverse osmosis in a chemical free process to produce the maximum volume of pure water and the smallest volume of waste for disposal.

Lens Encapsulated Bacteria
Specifically chosen bacteria encapsulated in a PVA lenses to remove ammonia and nitrate to as low as <1 ppm. Small site footprints and high activity in sea water and toxic environments.

Complete Nitrate Removal
Combining CIF® with reverse osmosis in a chemical free process to produce the maximum volume of pure water and the smallest volume of waste for disposal.

Low Energy Evaporation & Crystallisation
Using a dry air stream at low temperature to evaporate water and brines with easy operation and low maintenance. Produces a pure water distillate and can produce a concentrated brine, slurry, or solid waste.
Get in touch
Find out how we can help with your food and beverage water treatment challenge using the contact form below.