Clean TeQ Water's customised fixed bed ion exchange systems increase efficiency and water recovery through selective contaminant removal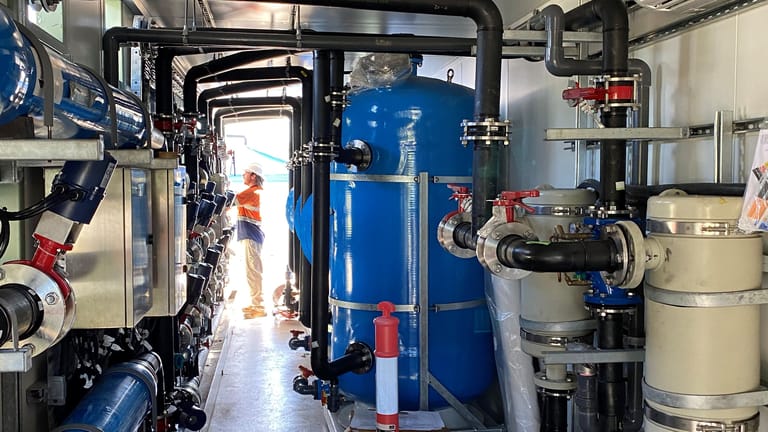 Fixed Bed Ion Exchange Technology Summary
Fixed bed ion exchange uses vessels filled with ion exchange resins to selectively remove contaminants from water. Different ion exchange resin types can be used to remove a range of contaminants, such as hardness, uranium, nitrate, and a range of metals. The selectivity of ion exchange typically leads to significantly reduced secondary waste production compared to methods such as reverse osmosis where all contaminants above a certain size are filtered out.
The system operates in batch fashion, where water flows through a fixed bed of ion exchange resin until the resins are fully loaded, and then the water stops flowing for the regeneration process to be undertaken in batches.
This is unlike Clean TeQ Water's CIF® (Continuous Ionic Filtration) technology where resin continually moves between vessels for regeneration. CIF® and batch ion exchange each have unique benefits. Which system to choose strongly depends on the application and customer needs, and we can suggest an approach based on the details of the project.
Water treatment projects are rarely the same, with varying feed water quality, different flowrates, and different project requirements. Clean TeQ Water provides customised fixed bed ion exchange solutions for a range of industries tailored to meet each customer's needs.
With over 20 years of experience in water treatment, we have deep expertise with resin selection, vessel design, regeneration schedules, and other process design parameters to ensure maximum efficiency, cost effectiveness, and optimal performance for the specific application.
Applications
Batch ion exchange has been used in a range of industries for over 50 years. It can remove a range of contaminants, including hardness (calcium/magnesium), nuisance metal contaminants (e.g. iron, manganese, uranium), nitrate, phosphate, boron, sulphate and more.
Batch ion exchange is typically used for:
Benefits of Our Customised Batch Ion Exchange Plants
FIT FOR PURPOSE WITH OPTIMISED RESOURCE CONSUMPTION
VERY HIGH WATER RECOVERY & LOWER WASTE
ROBUST UNDER VARYING WATER CONDITIONS WITH LOW MAINTENANCE
EASY OPERATION – FULLY AUTOMATED WITH REMOTE MONITORING
Get in touch
Find out how we can help with your water treatment challenge using the contact form below.